The first Olympiad on Therapeutic Sciences was organized by members of Tyumen State Medical University scientific club of hospital therapy. 5th year students of the university and employees of our Center outperformed other teams and took the honorable 1st place.
"Therapy Queens" - the name of the winning team. Three girls: Ekaterina Leonova, Polina Ivanova and Arina Rodionova have been working for more than a year in the departments of our center and what is more have time to engage in research activities.
The winners shared that they decided to choose that name to the team because the term 'therapy' had been called the Mother of sciences, so its best representatives should be queens.
26 teams from Moscow, Nizhny Novgorod, Yekaterinburg, Yoshkar-Ola, Ulan-Ude, Chelyabinsk, Ulyanovsk, etc. took part in the scientific contest. The tasks covered the main sections of therapy. The jury took into account not only theoretical knowledge, but also the clinical thinking of students, ingenuity and inventive power.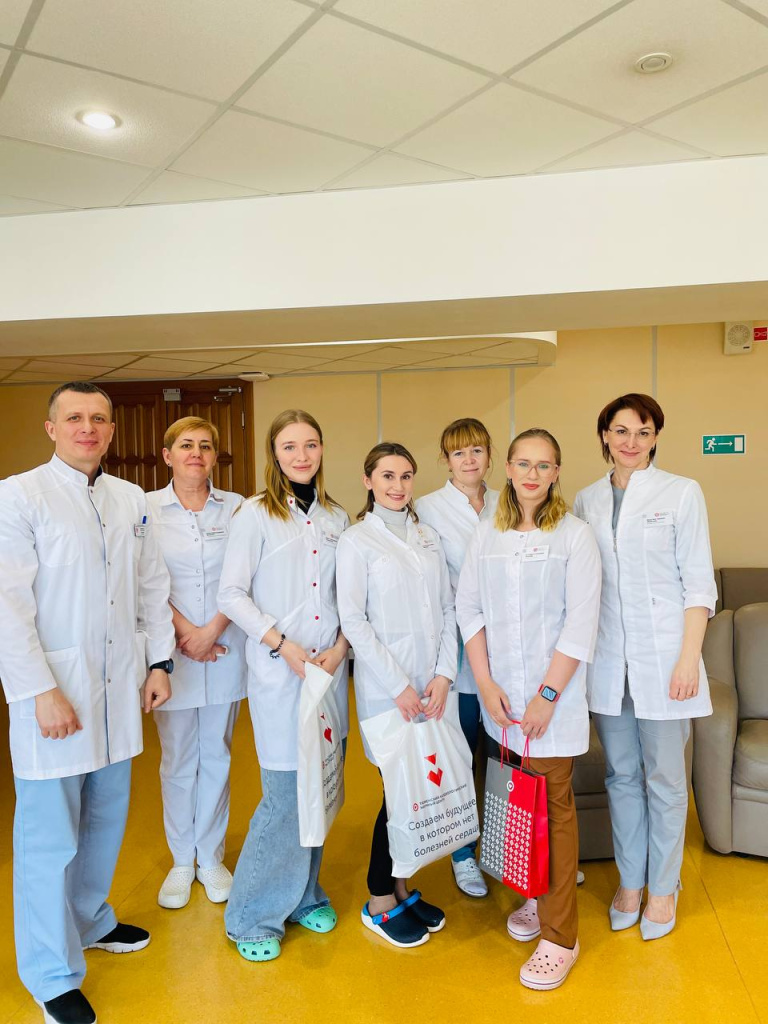 Members of Therapy Queens mentioned that working at our Center helped them a lot in solving problems. Their team scored the most points! In addition, the girls won in "Best Tactics of Patient Management" nomination, having earned the maximum rank in "Situational case-tasks" competitive round.
The questions were difficult, but interesting, not theoretical, but related to life, to practice. Arina Rodionova, the participant, student of Tyumen Medical University, nurse, laboratory researcher of our center, told that there were 3 rounds in total. In the first one, participants answered questions on various symptoms and syndromes of diseases, in the second, case situations were solved for a particular patient. Not everyone was allowed to participate in the third round. In advance, girls had sent "Biohacking in therapeutic practice" project and got points for that project and were rated.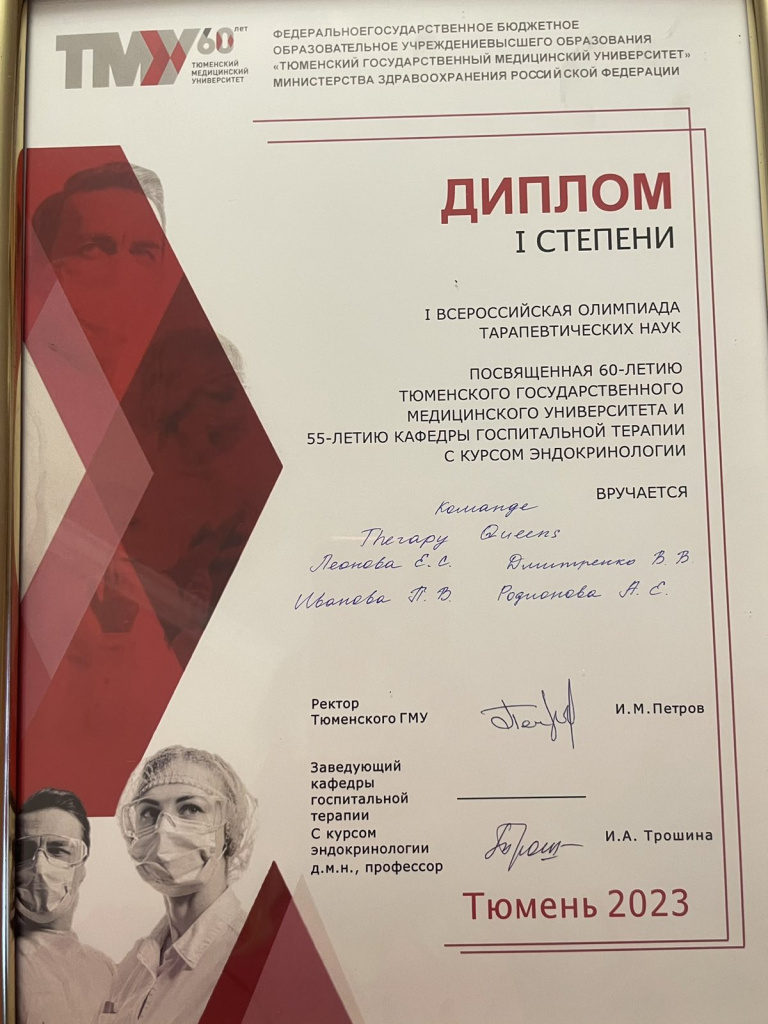 Leaders of Tyumen Cardiology Center, congratulating the young colleagues on their victory, said that it was incredible how girls had managed to do everything: to study, to work, to participate in such projects and to win! To their mind our nurses were really great fellows and would have a great future in medicine. Our center team was proud and wished new success!
The girls found to be at our Center by chance, but two of them had been already planned to engage their further education with cardiology.
From the first days in our center Ekaterina and Polina felt supportive relationship. Nurses shared that our center`s team was wonderful. To their opinion the best tutors were Elena Ivanovna Palyanova, senior nurse; and Inna Anatolyevna Zhevagina, the head of the department. Physicians and nurses in the department and in the center too were sympathetic, friendly, they always answer any questions, and no one could stay on the sidelines. Our nurses were glad that they had been here! By the way, in one of the rounds there was a cardiological task, and girls already had had experience that could be applied!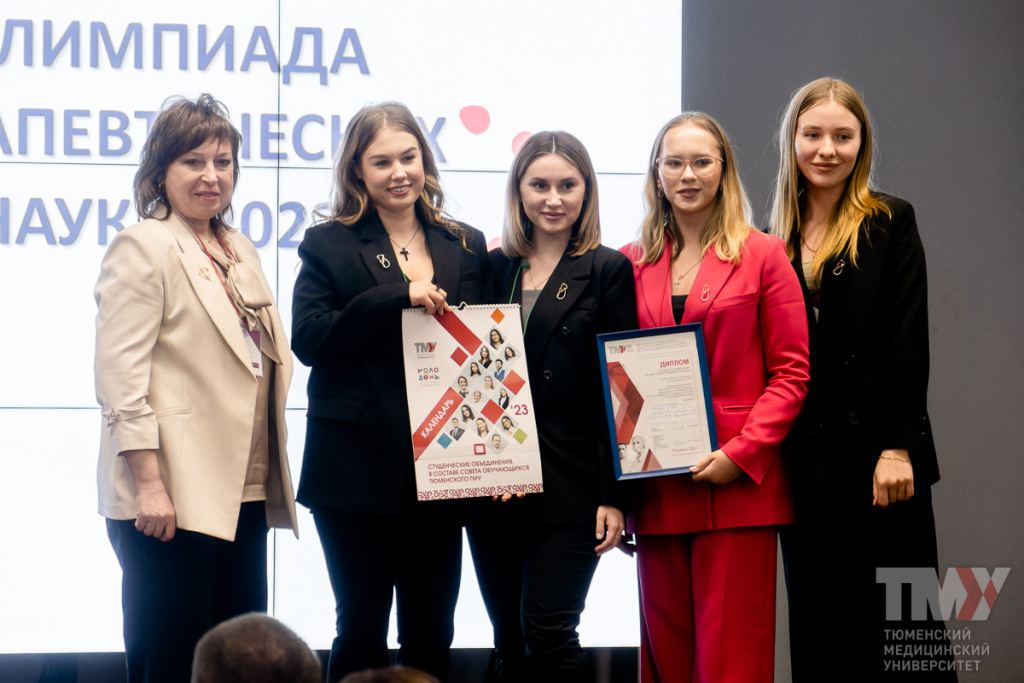 For nurses, that was also great scientific start. Furthermore, in such events, representatives of practical healthcare were looking for fresh ideas and projects aimed at protecting health and increasing life expectancy. Our center scientific team hopes that project of comprehensive phone application on anti-aging presented by winners has lots of chances to become real life!
By the way, it should be mentioned that one of the representatives of the contest organizers was Alena Semerikova, the head of scientific club, student of Tyumen State Medical University, worked at Tyumen Cardiology Center during her studentship.